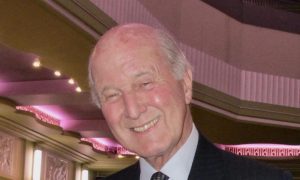 LONDON—With over 16 years on the board of governors for the Royal Ballet School and a background in music at London's Guildhall School of Music, Conservative peer Lord Sterling has a refined artistic sensibility.
He also has, he says, a "great empathy for dance."
After seeing Shen Yun at London's Eventim Apollo theatre on April 26 with his grandson, Sterling said it made him "feel good to be alive."
In addition to his involvement in the arts, 84-year-old Lord Sterling is perhaps best known for leading P&O Cruises from 1983 to 2005.
He has advised numerous British governments on issues related to the country's industry, and has been recognised in the Queen's honours list more than once.
He has also chaired the Young Vic Company, one of London's most beloved theatres.
Lord Sterling said Shen Yun, which is currently in the middle of its 2019 tour, was "tremendous" and "superb."
'Wonderful for This Day and Age'
Through about 20 vignettes, Shen Yun takes audience members on a journey to different eras, regions, and into the worlds of famous characters in history and literature.
These stories portray themes like spiritual devotion, the benevolence of gods, good and evil retribution, and the search for the meaning of life, according to the company's website.
"I thought the whole sentiment was wonderful for this day and age," Sterling said. "I also thought the quality of the … dancing was beautiful, and the orchestra was very good."
New York-based Shen Yun Performing Arts is the premier classical Chinese dance company whose mission is to revive 5,000 years of traditional Chinese culture through music and dance.
One of the show's core features is a live orchestra blending Chinese instruments into a Western symphony.
Solo performers are also featured, with an erhu virtuoso taking centre stage at one point.
Something of a unique instrument, the erhu has a history of over 4,000 years and was an integral part of folk performances, operas, and imperial banquets throughout the dynasties, according to Shen Yun. This two-stringed instrument has the ability to express sounds of joy, sorrow, grace, or tenderness. It has been said that the erhu is an instrument most resembling the human voice.
Lord Sterling specifically commented on the quality of the erhu performance. He said that because he used to play the violin, "it was beautiful, absolutely marvelous."
With reporting by Mary Mann and John Smithies.
The Epoch Times considers Shen Yun Performing Arts the significant cultural event of our time and has covered audience reactions since the company's inception in 2006.
CODEC News: