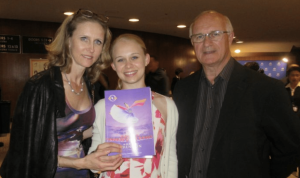 COSTA MESA, Calif.—As a formally trained classical ballet dancer with an extensive repertoire, Galina Barinova appreciates the hard work dancers go through to make sure every movement down to the tiniest details is perfect on stage. She said, once a performer is on stage, everything is under the microscope.
When Barinova experienced Shen Yun Performing Arts, she was impressed by the dancers' flexibility, control, and artistry; but in particular, she was impressed by their ability to move on stage as a "single organism."
"When you do something on stage it shows every single thing, you cannot cheat on stage. There is no way to hide on stage, once you get on, you're under a microscope," she said.
Originally from Russia, Barinova has toured many countries across Europe and Asia, and throughout the United States performing in popular productions such as Swan Lake and The Nutcracker. She is currently teaching ballet at Southland Ballet Academy as well as figure skaters on and off the ice, according to her profile.
After seeing Shen Yun perform at the Segerstrom Center on April 26, Barinova praised the choreography and the dancers' synchronicity.
"The choreography is actually pretty fascinating to me because I love the unison, to the littlest detail. Everybody moves like a single person. That's what I teach my students in the class every single time because it's absolutely one of the most important things when you perform on stage, to do something together and create that amazing feeling of moving as a single organism," she said.
"And then the choreography is interesting. I love the patterns. I love the acrobatics," she added.
An Ancient Dance Form
New York-based Shen Yun is a traditional Chinese dance and music company with the mission to bring China's 5,000 years of civilization and history to the modern world. The performance primarily uses classical Chinese dance as its foundation and incorporates ethnic and folk style dances from regional and minority groups in China.
Classical Chinese dance has a history of thousands of years and was passed down continuously within the imperial palace and ancient Chinese theater and opera. It absorbed wisdom from every era and dynasty before becoming a complete system of dance embodying traditional aesthetic principles with its unique dance movements, rhythms, and inner meaning, according to the Shen Yun website.
Through watching Shen Yun, Barinova developed an appreciation for this traditional style of dance, describing it as unique.
"It's very different. It's very fresh to me because I'm a formally trained classical ballet dancer. So seeing something so unique in my perspective is very interesting," she said.
'From Within'
She added that many of the stories came through to the audience due to the performers' ability to express their "inner motivations" through their movements and body language.
"In terms of interpretation, the stories come across as very much, it's like they have the inner motivation. It's like it's coming from within," she said.
"And it really shows I think, and the hard work of every single individual dancer actually, I think, that actually has that foundation in Chinese culture. And I think it has very deep roots as well. So it's very interesting," she said.
Classical Chinese dance movements are unique, as it can bring out the inner meaning of intrinsic thoughts and feelings, reflecting the peculiarities of human nature, the standard for human conduct, moral concepts, mental state, and one's value system. China's deep cultural traditions are contained in classical Chinese dance, allowing its movements to be richly expressive.
Inspiration
Barinova said after seeing Shen Yun, she plans to go back to the dance studio and tell her students to experience the performance for themselves.
"I'm going to say, you guys have to see it, first of all. Second, you will understand how important it is to dance together," she said.
"Then I hope they get the chance to see it at some point; maybe not this visit but some, I'm sure [Shen Yun is] going to be coming back, so it'll be wonderful. I'll definitely tell them," she said.
With reporting by Linda Jiang.
The Epoch Times considers Shen Yun Performing Arts the significant cultural event of our time and has covered audience reactions since the company's inception in 2006.
CODEC Stories: