Today we are going to make Japanese Chashu Pork (Braised Pork Belly for Ramen). It's a perfect topping for ramen or as a side dish. We are going to roll up the pork belly and braise it until it's super tender and succulent.
Japanese Chashu Pork Recipe
Serves: 8
Prep time: 10 minutes
Rest time: Overnight
Cook time: 2 hours and 20 minutes
Ingredients:
4 1/2 pounds pork belly with skin
2 tablespoons avocado oil (or other high smoking point oil)
5 cups water
3/4 cup soy sauce
1 cup sake
1 cup mirin
4 tablespoons sugar
1 stalk big green onion (replace it with leek or scallions)
6 slices ginger
1 garlic bulb, halved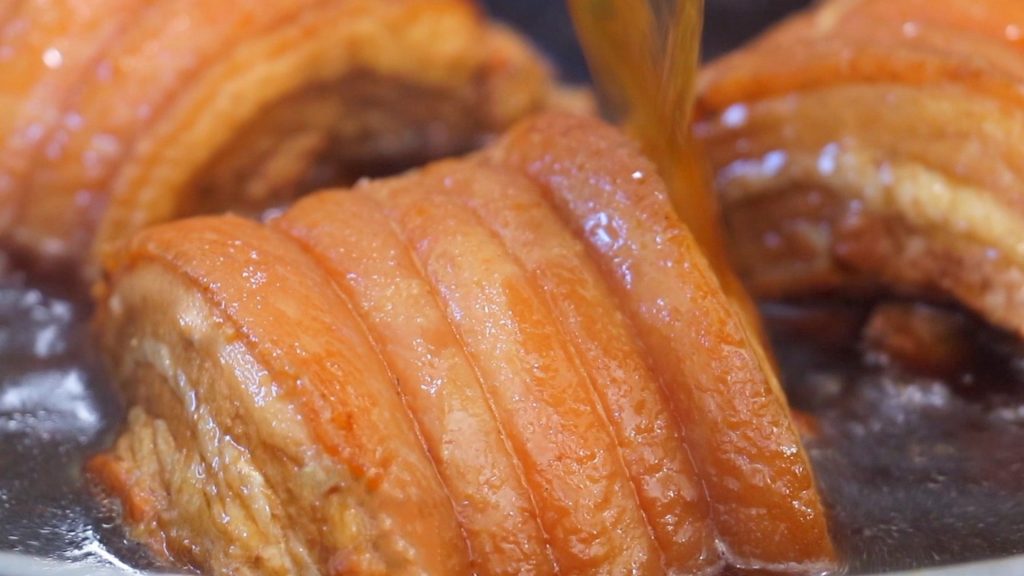 Japanese Chashu Pork Instructions
To prepare the chashu:
After thoroughly cleaning the pork belly, use a clean razor to trim off the hair. With the skin side down, roll it tightly into a log. Tie a cooking twine around it and tie it up.
In a pan over high heat, add the avocado oil (or other high smoking point oil), place in the pork belly, and sear everywhere until golden brown, about 10 minutes.
To braise the chashu:
In a pot over high heat, place in the water, soy sauce, sake, mirin, and sugar. Whisk. Also add the big green onion (or replace with scallions), ginger, and garlic. Bring it to a simmer, and turn to low heat. Transfer in the pork belly, cover the lid and cook for 2 hours. Turn every 30 minutes.
Uncover and skim off the fat and impurities. Remove all the aromatics in the pot.
Transfer the pork belly to a container, and filter in the sauce. Wait until completely cooled down. Place it in the fridge overnight for deeper flavors. (You could also save the stock for ramen eggs.)
To serve the chashu:
The next day, cut the twine and slice the pork belly to desired thickness. Sear the chashu with a torch or on a pan. Serve!
CODEC Stories: