Today I'm partnering with Knorr, and I'll use Knorr Liquid Seasoning to make Boiled Pork Belly in Garlic Sauce (Suanni Bairou). It's the perfect spring and summer dish that everyone in your family will enjoy.
Knorr Liquid Seasoning brings out the umami flavor. It's the perfect all-around companion in the kitchen as you can use it to cook, marinate, sprinkle, and serve as a dipping sauce! Just one bottle inspires you with endless creations! Knorr Liquid Seasoning is available at your local grocery store. For more delicious recipes, follow @CookWithKnorr on social media!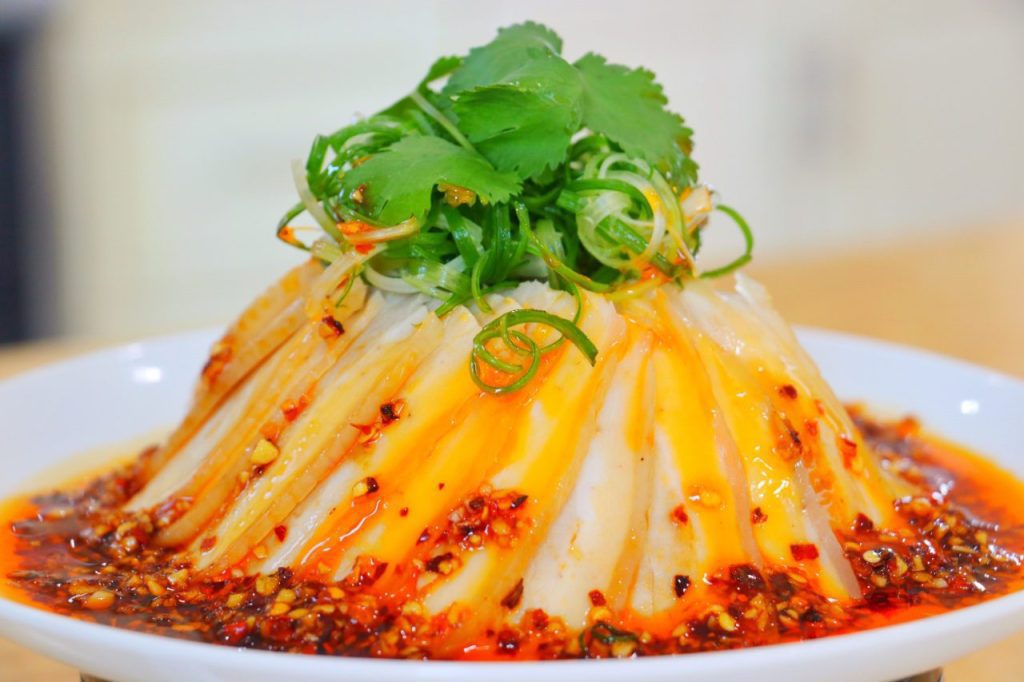 Pork Belly in Garlic Sauce Recipe
Serves: 2 to 4
Prep time: 30 minutes
Cook time: 1 hour and 20 minutes
For the pork:
2 pounds pork belly, or the second cut of pork rump (Er Dao Rou)
2 tablespoons Shaoxing wine
8 slices ginger
2 stalks scallions, cut into 3-inch pieces
1 teaspoon Sichuan peppercorns
For the sauce:
1 cup water
1/2 teaspoon Sichuan peppercorns
1/2 teaspoon fennel seeds
1 pod star anise
1 pod black cardamom, deseeded
2 pieces bay leaves
1 cinnamon stick
4 tablespoons Knorr Liquid Seasoning
1/2 cup soy sauce
4 tablespoons brown sugar
12 garlic cloves, half puréed and half minced
Pinch of salt
1 teaspoon sesame oil
6 tablespoons chili oil
For the garnishes:
1/2 cucumber, thinly sliced
1 stalk scallions, julienned
2 sprigs cilantro
Pork Belly in Garlic Instructions
To cook the pork:
In a large pot of water over high heat, place in the Shaoxing wine, ginger, scallions, Sichuan peppercorns, and pork belly. Bring it to a boil, then turn to the lowest heat, and simmer for 1 hour.
Remove the pork belly, and let it cool down. (It will be easier to cut into thin slices once it has completely cooled down.)
Trim off the uneven parts, and cut it into thin slices.
To cook the sweet soy sauce:
In a pot over low heat, bring the water to a simmer. Place in the Sichuan peppercorns, fennel seeds, star anise, black cardamom, bay leaves, and cinnamon stick. Cook until aromatic for 3 minutes. Add the Knorr Liquid Seasoning, soy sauce, and brown sugar. Whisk and cook for another 15 minutes until it is thickened. (We'll need about 3 tablespoons of this sweet soy sauce today. You can save the rest in the fridge for next time or for other recipes.)
Filter out the spices.
To make the sauce:
In a bowl, add the pureed garlic, minced garlic, salt, sesame oil, 3 tablespoons of sweet soy sauce that we made, and chili oil. Whisk.
To assemble:
Place the pork slices around a bowl. (Traditionally, people would blanch or steam the pork slices again before serving, but I prefer eating it as a cold dish during spring and summer. You can try both ways, and let me know which one you like better.)
And fill the center with more pork slices and cucumber. Top it with a plate, carefully turn everything over, and uncover the bowl. Garnish with scallions and cilantro. Drizzle with the sauce.
Trending now: