Lots of nutritious vegetables and agar-agar are placed in eggshells. Then, they are set into vegetable jellied eggs. When you crack open the eggshell, everybody will be surprised. Let's get started!
Vegetable Egg Jelly Recipe
Serving: 6
Prep time: 25 minutes
Cook time: 10 minutes
Rest time: 20 minutes
Ingredients:
6 large eggshells
¼ cup steamed carrots
¼ cup steamed peas
¼ cup steamed corn kernels
½ small cucumber, cut into cubes
For the agar-agar:
2 cups (473 ml) vegetable stock, or replace with water
2 teaspoon agar agar
Pinch of salt
For the dipping sauce:
2 tablespoon soy sauce
1 tablespoon Chinkiang vinegar, or replace with others
3 garlic cloves, minced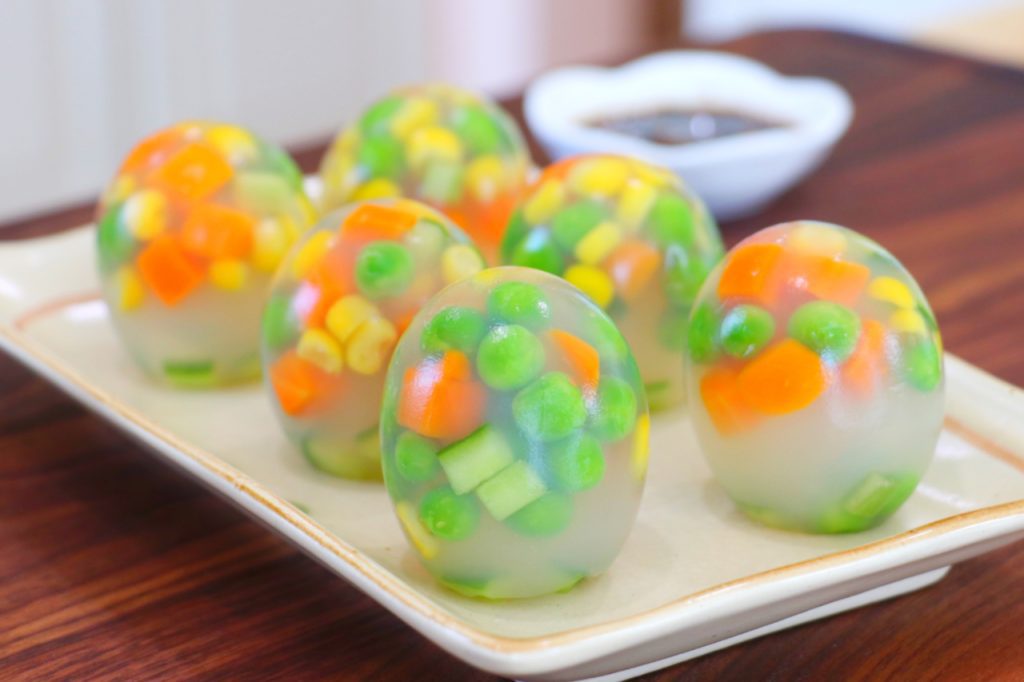 Vegetable Egg Jelly Instructions
To prepare the eggshells:
Crack a small area at the end of the egg. Place a chopstick inside and break the yolk (so it's easier to come out). Pour out the egg into a bowl, do the same for the rest, and save them for another recipe.
Wash the eggshells.
In a pot over high heat, bring water to a boil. Boil the egg shells for about 2 minutes (to ensure they are completely clean). Remove and drain.
To prepare the dipping sauce and fillings:
To make the dipping sauce, in a bowl, add the soy sauce, Chinkiang vinegar (or replace it with others), and garlic. Whisk and set aside.
In a mixing bowl, add the steamed carrots, steamed peas, steamed corn kernels, and cucumber (or replace them with other ingredients). Mix well.
Place them in each eggshell. Do the same with the rest.
To prepare for the agar-agar:
In a small pot, pour in the vegetable stock (or replace it with water). Then add the agar-agar powder. Also, add the salt, and whisk until everything is dissolved.
Place the pot over high heat, stirring constantly, and bring it to a boil. Turn to medium heat, continue to stir constantly, and simmer for 2 minutes.
To make the vegetable egg jelly and serve:
Pour the liquid into a gravy boat for easier pouring (or use a funnel). Add the liquid to each eggshell. Do the same with the rest. Set under room temperature for about 20 minutes.
To unmold, crack open the egg shells, and serve with the dipping sauce. Enjoy!
Have you heard this before?
People often ask me, "How can I improve my cooking skill?" So you might have heard this before: when you cook with love, the food tastes better. On top of that, here's what I do — I also like to do meditation to clear my mind. When your mind is clear, you could do everything better. You will naturally find your inner chef and elevate your cooking skill. Give it a try and let me know how it goes! Enjoy!
CODEC Stories: