Sesame balls are one of the most popular desserts served in dim sum. Today, Ellie and Emma are joining me in the kitchen, and let's make the yummiest sesame balls ever!
Serves 16 Sesame Balls
Prep time: 1 hour and 10 minutes
Rest time: 30 minutes
Cook time: 30 minutes
Ingredients:
2 1/4 cups glutinous rice flour, separated
1 cup water
½ cup sugar
1 teaspoon extra light olive oil
7 ounces lotus paste, or other fillings
1 cup toasted white sesame seeds
6 cups peanut oil, for frying
Sesame Balls Instructions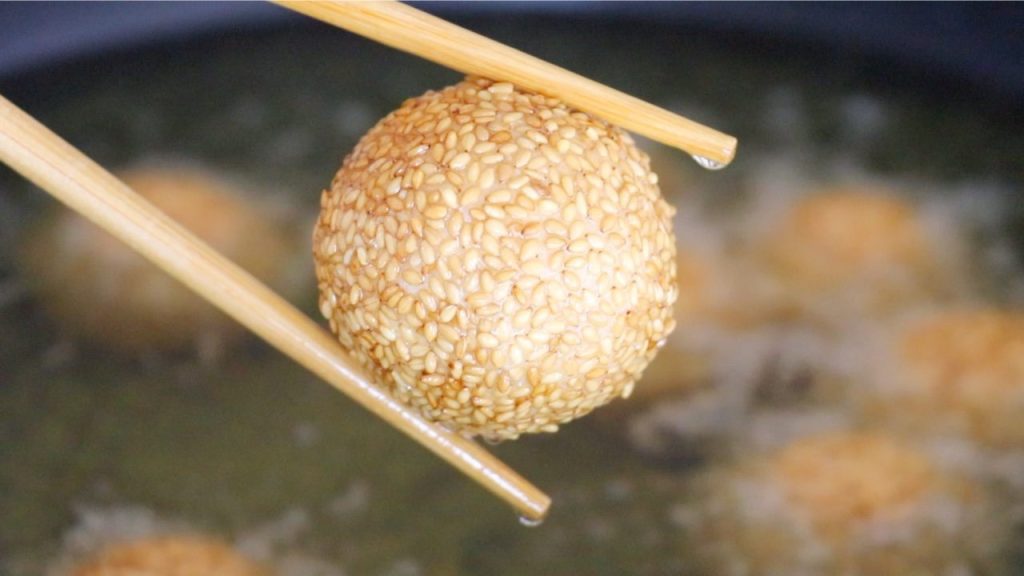 In a small pot over high heat, add in the water and sugar, stir until melted, and bring it to a boil.
In the large mixing bowl, transfer in 1 1/2 cups of glutinous rice flour. Pour the water mixture inside. Whisk until combined. Add in another 3/4 cup of the glutinous rice flour and whisk for 1 minute. (If it was too sticky, add another tablespoon of glutinous rice flour at a time. If it was too dry, add another tablespoon of water at a time.) Then add the extra light olive oil, and knead until it becomes a piece of dough, 3 minutes. Place it in a kitchen bag, and rest for 30 minutes.
Divide the lotus seed paste into small pieces, each piece is about 2 teaspoons. And roll them into balls. Cover them up with a plastic wrap.
On a lightly dusted working surface, roll the dough into a log. Then divide it into 1 1/2-inch pieces.
Push down a piece of dough into a round shape, and create a well in the center. Then place a filling on it, and wrap it up and seal. Do the same with the rest.
Dip a ball in a bowl of water, then roll the ball in sesame seeds. Place it on a plate. Do the same with the rest.
In a pot over high heat, pour in the peanut oil (or other high smoking point oil). Heat it up to 250 °F (121 °C), and carefully place in the sesame balls. Fry until golden brown and expand in size, 10 minutes.
Remove and drain on a paper towel-lined plate.
CODEC Stories: