Crab rangoon is a very popular Chinese American appetizer. It's like crispy fried wonton, that's packed with cream cheese and crab meat. We'll also make a sweet and sour chili dipping sauce to go with it. Would you like some? Let's get started with this super delicious crab rangoon recipe!
Crab Rangoon Recipe
Serves: 12
Prep time: 35 minutes
Cook time: 20 minutes
For the sweet and sour chili dipping sauce:
1 cup water
1 tablespoon rice vinegar
3 tablespoons ketchup
3 tablespoons sugar
1 tablespoon sambal oelek
3 garlic cloves, minced
1 tablespoon cornstarch
3 tablespoons water
For the crab rangoon:
12 wonton wrappers
8 ounces Philadelphia cream cheese
1 1/2 cups crab meat, minced
2 stalk scallions, minced
1 tablespoon soy sauce
1/2 teaspoon sugar
Pinch of white pepper
4 cups extra light olive oil, for frying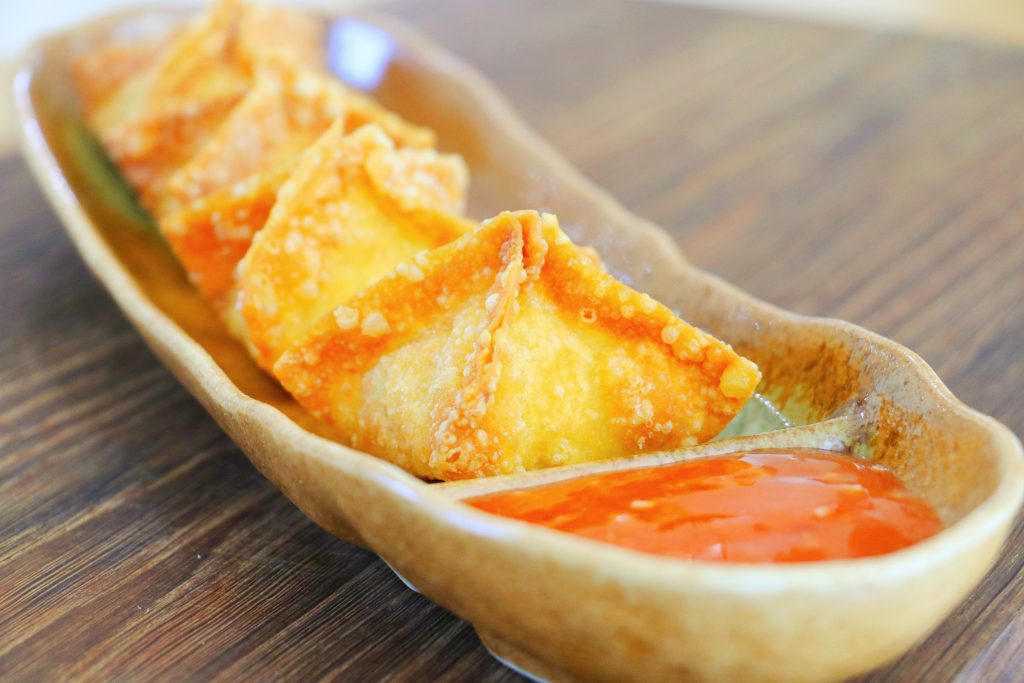 Crab Rangoon Instructions
To make the dipping sauce:
In a saucepan over medium heat, place in the water, rice vinegar, ketchup, sugar, sambal oelek, and garlic. Bring it to a simmer, and pour in the cornstarch slurry (1 tablespoon of cornstarch and 3 tablespoons of water). Stir until it is thickened. Set aside.
To combine the filling:
In a mixing bowl, combine the Philadelphia cream cheese, crab meat, scallions, soy sauce, sugar, and white pepper. Mix together.
To assemble the crab rangoon:
Tap some water on the edges of the wrapper. Place about 1 1/2 teaspoons of filling in the center. Fold the two ends of the wrapper together, followed by the other two ends, and seal all the edges to form a four-pointed star.
To fry the crab rangoon:
In a large pot over high heat, place in the extra light olive oil (or other high smoking point oil of your choice), and heat it to 325°F or 163°C.
Transfer in the crab rangoon, a few at a time. Deep fry until golden brown for about 5 minutes, and turn them frequently so that they brown evenly.
Remove and drain on a paper towel-lined plate. Repeat with the remaining crab rangoon. Serve!
Notes:
After frying, if the oil is not cloudy and dark, it can be reused in the future. Let the oil cool to room temperature, then pour it into a glass jar through a coffee filter or piece of cheesecloth. Store in a cool and dry place.
If the oil is not reusable, throw it away properly. Let it cool to room temperature, then pour it into a non-breakable container with a lid. Tightly seal the container and toss it into the trash. Never pour the used oil down the drain, as it can clog your sink.
CODEC Stories: