Korean Cucumber Kimchi (Oi-sobagi) is a super popular type of kimchi during summer. It's spicy, tangy, crunchy, and refreshing. If you love kimchi, you have to give this Korean Cucumber Kimchi Recipe (Oi-sobagi) a try!
Korean Cucumber Kimchi Recipe
Serving: 8
Prep time: 1 hour and 10 minutes
Cook time: 5 minutes
Ingredients:
8 Kirby cucumbers (or replace it with 4 English cucumbers)
6 cups water
½ cup Korean coarse sea salt
1 cup chives, cut into 1 inch pieces
3/4 onion, thinly sliced
1 carrot, julienned
4 garlic cloves, minced
½ cup Korean chili flakes (gochugaru)
3 tablespoons fish sauce
1 tablespoon Korean salted shrimp (saeujeot)
1 tablespoons Korean plum extract (maeshil cheong) (or replace it with sugar)
1 tablespoon sugar
½ tablespoon toasted sesame seeds
3/4 cup room temperature cooked water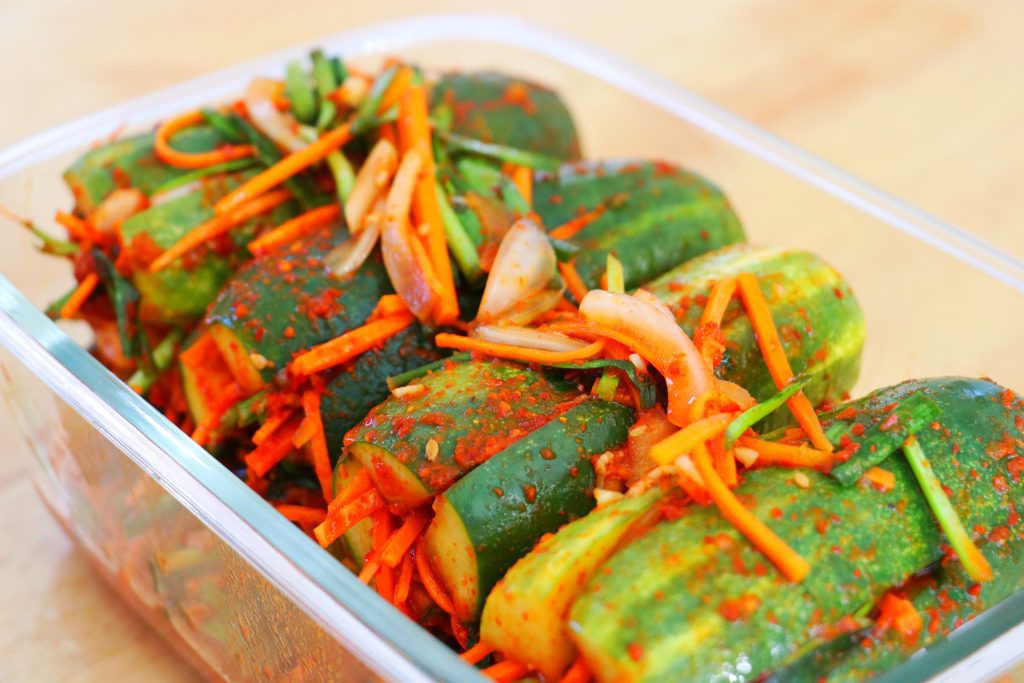 Korean Cucumber Kimchi Instructions
To prepare the cucumbers:
Cut off both ends of the cucumbers. Slice them into a cross pattern, lengthwise, without cutting all the way through. Transfer the cucumbers to a mixing bowl.
In a pot over high heat, place in the water and Korean coarse sea salt, stir until dissolved and bring it to a boil. Turn off the heat.
Pour the boiling water into the mixing bowl. (Don't worry! The cucumbers won't be cooked. Instead, they will stay crunchy for a very long time. ) Brine for 30 minutes.
Rinse the cucumbers with room temperature cooked water. Drain.
To make the stuffing:
In a mixing bowl, combine the chives, onion, carrot, garlic, Korean chili flakes, fish sauce, and Korean salted shrimp (This will help to add a delicious umami taste to it, but if this isn't available in your local grocery stores, you could opt it out.), Korean plum extract (You could also replace it with sugar.), sugar, sesame seeds, and water. Mix well.
To stuff the cucumber:
Gently open each cucumber and place the stuffing inside. Coat the outside as well. Place them in an airtight container.
To ferment the cucumber:
The cucumbers can be eaten right away. To let them ferment faster, leave them out at room temperature for about 1 day. Then continue to ferment and store inside the fridge for up to 4 weeks. During the fermentation, a tangy flavor will develop.
CODEC Stories: